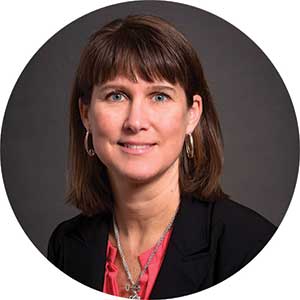 Today, approximately half of the Society's current members do not practice public accounting but instead have careers as educators, in government, or in a variety of capacities in business and industry in Nebraska. Many of those industry members have spent most of their accounting careers with one company—facilitating the growth of that business, creating new jobs, and helping to build a vibrant, expanding economy for all of Nebraska's citizens.
One of those outstanding Society members is Susan K. "Sue" Wilkinson, who received the Society's 2020 Outstanding CPA in Business and Industry Award during the Nebraska Society of CPAs' Annual Meeting, held virtually on October 29.
A native of Petersburg, Neb., Wilkinson chose to major in accounting when she arrived at the University of Nebraska-Lincoln because of her strong math skills. She graduated from UNL with a Bachelor of Science degree in Business Administration with an accounting emphasis and then earned her CPA certificate in 1991. Today, she is executive vice president, chief financial officer, and treasurer of Ameritas Mutual Holding Co. in Lincoln, Neb.
Wilkinson's remarkable talents and vision have helped lead the growth and success of Ameritas. Her career at Ameritas officially began in 1995, although she had served on the company's audit account with Deloitte & Touche for five years. Starting in cost accounting, she soon added budget accounting. After three years, she began working in the individual insurance line of business, and facilitated budgeting and planning. She then moved to planning and risk management for Ameritas. Wilkinson has worked her way up the ranks, moving from assistant vice president in 2001 to vice president in 2005, senior vice president in 2010, and executive vice president in 2018, adding numerous responsibilities along the way. Today, those responsibilities include finance and accounting, corporate actuarial, human resources, risk and compliance, and information technology.
Wilkinson has been a member of the Nebraska Society of CPAs for the past 28 years as well as a member of the American Institute of CPAs (AICPA). She presently serves on the Dean's Advisory Board for the University of Nebraska-Lincoln College of Business and on the Bryan College of Health Sciences Board of Directors. She also is an audit committee member for both the Diocese of Lincoln and the University of Nebraska Foundation.
One of the largest benefactors of Wilkinson's volunteer service over the years has been the United Way of Lincoln and Lancaster County, where she has served as president of the board, secretary of the foundation board, and as a fund distribution team leader and chairman. Other past community service includes serving as co-chairman of UNL's School of Accountancy Advisory Board, on the Pius X High School Board of Advisors, the Leadership Council for the Lincoln Young Professionals Group, the Lincoln Community Foundation Board of Directors, the Habitat for Humanity Finance Committee, and as a campaign cabinet member for Nebraska Wesleyan University.
In addition, Wilkinson has earned the Fellow in Life Management Institute (FLMI) designation and was a member of Leadership Lincoln Class XX. In 2017, she was inducted into UNL's School of Accountancy Hall of Fame. She has also been recognized with the Nebraska Alumni Association's Young Alumni Achievement Award and the Lincoln Business Journal's 40 Under 40 Award.
She has been married to Bert for 30 years, and they have two grown children, Chelsea and Jake.
The purpose of the Outstanding CPA in Business & Industry Award is to honor Nebraska CPAs who have made a significant contribution to the growth and success of their employers or a notable entrepreneurial achievement. In addition, the award recognizes those CPAs working in business, industry, or government who have distinguished themselves by having made a significant contribution to the enhancement of the accounting profession. The nominee must be a CPA, be a member of the Nebraska Society, and be in good standing with the profession. Selection of the award recipient is made by a committee of Society members and approved by the Society Board of Directors.
The Nebraska Society of Certified Public Accountants