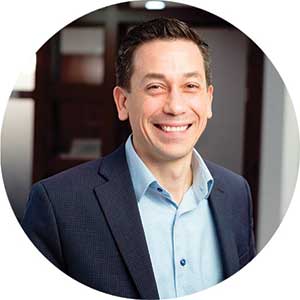 In an effort to honor his outstanding work and leadership with Omaha's charitable and not-for-profit communities, Ralph Dovali, Jr. of Omaha was honored with the Nebraska Society of CPAs' Public Service Award during the Society's Annual Meeting, held virtually on October 29.
Dovali began his career with Hancock & Dana in 2000 as an intern. He joined the firm full-time the following year, and currently serves as a partner. He has a wide range of experience including individual and business tax services, financial statement audits, non-profit tax and accounting, and compliance audits of employee benefit plans.
Dovali graduated from Creighton University in Omaha with a Bachelor of Science in Business Administration in 2001 and a Master of Business Administration from the University of Nebraska at Omaha in 2004. He has been a member of the Nebraska Society of CPAs for 11 years, and is also a member of the American Institute of CPAs (AICPA). In 2017, he received his Chartered Advisor in Philanthropy (CAP) certificate, a credential designated to highlight education and expertise in charitable giving and not-for-profits.
Outside of his work, Dovali has spent an incredible amount of time as a community volunteer, providing financial guidance to critical charitable organizations, improving the lives of the disabled and disadvantaged, and giving back to his community in numerous other ways.
For the past eight years, he has served as a member, and recently concluded his term as co-chairman, of the Omaha Venture Group, which is a giving circle designed to allow young professionals make a difference in smaller, grassroots not-for-profit agencies that are vital to the community but face challenges associated with startups.
Dovali recently finished a six-year term serving as board treasurer of CHAD (Combined Health Agencies Drive), formerly Community Health Charities, which helps people affected by chronic disease or disability by connecting organizations with donors through workplace giving.
He also has served as board treasurer of Outlook Nebraska for nearly six years. Outlook Nebraska's mission is to positively impact the lives of the blind and visually impaired through employment, training, and enrichment experiences.
In addition, Dovali has been board treasurer of Memories for Kids for almost six years. This organization helps create lifelong memories for children who have a parent with stage IV cancer.
Dovali also recently finished his term on the board of the Omaha Community Foundation, helping to connect the dots between the needs of the community and those working to make a difference.
He also has been an active member of the Holy Cross Booster Club for the past 13 years, currently serving as treasurer of the organization.
Last but not least, Dovali is a youth sports coach, spending the past 18 years coaching baseball and basketball in various youth sports programs in Omaha.
In 2017, the Midlands Business Journal awarded him with a 40 Under 40 Award for demonstrating outstanding leadership and career accomplishments.
He has been supported in his endeavors by his wife, Angela, of 22 years and their five children.
The purpose of the Public Service Award is to recognize Nebraska CPAs who have performed outstanding public service in their communities. The nominee must be a CPA, be a member of the Nebraska Society of CPAs, and be in good standing with the profession. Selection of the award recipient is made by a committee of Society members and approved by the Society Board of Directors.
The Nebraska Society of Certified Public Accountants