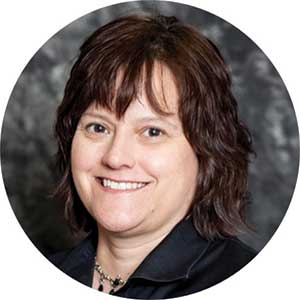 In recognition of her outstanding ability to educate and care for accounting students at Doane University in Crete, Professor Courtney C. Baillie of Lincoln was honored as the 2020 recipient of the Nebraska Society of CPAs' Outstanding Accounting Educator Award during the Society's Annual Meeting, held virtually on October 29.
Baillie holds a Master of Professional Accountancy degree and a Ph.D. in Higher Education from the University of Nebraska-Lincoln. After obtaining her CPA certificate in 1990 and working in public accounting at what was then Baird, Kurtz, and Dobson (now BKD) for four busy seasons, Baillie and her husband Scot joined the Peace Corps and served in Russia for a year. Since returning to the United States in 1993, Baillie has been in the college classroom for the past 27 years. Prior to joining Doane University as a professor of accounting in 2016, Baillie was an instructor at Southeast Community College for six years and an accounting professor at Nebraska Wesleyan University for nearly 17 years. From 2014-2016, she was Wesleyan's MBA program director. She also taught in the Jeffrey S. Raikes School of Computer Science & Management at the University of Nebraska-Lincoln.
Outside of the classroom, she has been involved with Junior Achievement and the Nebraska Board of Public Accountancy's Education Advisory Committee. A member of the Nebraska Society of CPAs for the past 20 years, Baillie also has served on the Society's Accounting Careers Committee and the Awards Selection Committee.
If you Google "Courtney Baillie," you'll see exceptional comments from students like:
"I'm taking one of the hardest accounting classes at UNL . . . yet she makes it easier. . . . I would take every class possible with her."
"I had zero interest in . . . accounting . . . but Professor Baillie made the material comprehendible and was always interjecting amusing stories into her lectures."
"A very fun professor. Always willing to help outside of class, and wants her students to succeed."
"Courtney is a brilliant professor. Her teaching style helps students understand the material. . . . Also, Courtney is a great human. She very clearly cares about her students and frequently checks in with us—even before the pandemic. She's very personable, and we love all of her jokes—even the bad ones! Courtney is an invaluable asset to the accounting department. She's the reason I became an accounting major, and I'm so thankful I got to know her during my time at Doane."
"Courtney is my favorite professor. . . . She structures her classes so well, is constantly available to help students outside of the classroom, cares about what is going on in our lives and that we are successful in her classes. She teaches tough courses but still finds a way to explain the content clearly so that her students understand and [are] successful."
"Thank you for the last four years, you have made a big impact on me."
From these comments, it's evident that Courtney Baillie has been extremely successful at teaching and guiding college accounting students. Her record of unselfish service as an accounting educator and her positive lifelong effect on the lives of thousands of accounting students makes her the perfect recipient for the Nebraska Society of CPAs' honor.
The purpose of the Outstanding Accounting Educator Award is to recognize full-time Nebraska accounting educators for excellence in accounting education. The nominee must be a CPA, be a member of the Nebraska Society, be a full-time accounting educator at a college or university, and be in good standing with the profession. Selection of the award recipient is made by a committee of Society members and approved by the Society Board of Directors.
The Nebraska Society of Certified Public Accountants