Since 1976, the Foundation of the Nebraska Society of CPAs has been continuously increasing its commitment to help Nebraska college and university accounting students become future Nebraska CPAs. At its recent meeting, the Foundation Board of Trustees approved a record total of $128,600 in scholarships to 72 accounting students at 14 Nebraska colleges and universities for the 2020-2021 school year. Distributed to accounting students across Nebraska who are in their junior, senior, and graduate years of college, these scholarships are made possible by a transfer of funds from the Society to the Foundation as approved by the Society Board of Directors as well as through generous donations from our members. Please see page 23 of this issue for a list of Foundation contributors.
During a meeting via Zoom, the Foundation Board of Trustees, with Foundation President Don Kluthe of Omaha presiding, approved the following:
48 $1,500 General Accounting Scholarships Totaling $72,000
17 $2,300 150-Hour Scholarships Totaling $39,100
7 $2,500 Scholarships for Society Awards & Designated Scholarships Totaling $17,500
We will announce the recipients of all scholarships in the next issue of Nebraska CPA!
In other Foundation news, Don Kluthe, after numerous years of dedicated service, has decided to step down as president of the Foundation Board of Trustees. The Society extends a huge thank you to Don for his 17 years of service on the Foundation Board, including 14 years as a Foundation officer and his role as president of the Foundation for the past four years. Don is also a past chairman of the Society. According to our records, he has been active on a variety of Society committees and boards since 1990. That's a mountain of volunteer time and we are extremely grateful for Don's exceptional leadership over these years!
During its June 17 meeting, the Foundation Board elected the following officers for the 2020-2021 Foundation fiscal year, which began July 1:
President – Mark Manning of Crete
Vice President – Tracy Black of Lincoln
Secretary – Daniel Wells of Omaha
Treasurer – Patrick Lavelle of Omaha
The Foundation Board also re-elected Jamie Johnson of Lincoln and Patrick Kirlin of Omaha for a second three-year term.
The next meeting of the Foundation Board of Trustees is scheduled for November 23.
Excellent Attendance at Summer Conferences
The Society's two summer conferences, the 24th annual Not-for-Profit Organizations Conference and the 39th annual Nebraska Governmental Accounting & Auditing Conference, drew nearly 190 registrants and 20-plus local and national speakers. The conferences were held via live webcast June 2-3.
At this time, we have moved all courses for the remainder of the year to webcast. While COVID-19 and social distancing may have changed the way we interact with you, you have our commitment that we are doing everything we can to ensure you continue to receive the same great service, resources, and content you expect from the Nebraska Society of CPAs. We plan to bring back a mixture of live webcast and in-person courses in 2021.
We know you have many choices for CPE and are grateful for your participation in Society courses. Thank you for supporting your profession and the Nebraska Society of CPAs! If you have questions regarding CPE or if the Society can assist you in any other way, please do not hesitate to contact me or Society Vice President Kelly Ebert at kelly@nescpa.org.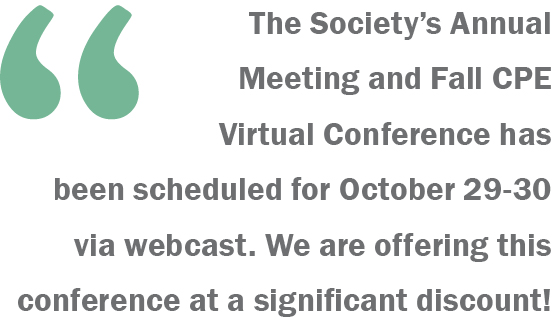 Next on the Agenda
The Society's annual Board of Directors Retreat will be held August 21 via Zoom. Nebraska Board of Public Accountancy Executive Director Dan Sweetwood will join us in the morning for a State Board report, followed by AICPA Chairman Tracey Golden, CPA, CGMA, audit partner at Deloitte, with a discussion of CPA profession issues from a national viewpoint. Then Walt Radcliffe and his team will provide a state legislative update to the group. The afternoon will include a strategic brainstorming session.
The Society's Annual Meeting and Fall CPE Virtual Conference has been scheduled for October 29-30 via webcast. See page 18 for more information. We are offering this conference at a significant discount! In the next issue of the Nebraska CPA magazine, the Society's Nominating Committee will announce its recommendations for chairman-elect and for two new directors to serve on the Society Board in 2020-2021. The membership will vote on these individuals during the Annual Meeting. Register today for the Annual Meeting and the Fall CPE Virtual Conference, both to be held via webcast, at https://nescpa.org/conferenceregform.php.
Thank You, CPAs!
As CPAs and accounting professionals, you are known for wearing many hats. Since the beginning of COVID-19, you've stepped it up a notch by doing whatever it takes to best serve your clients and providing critical guidance to individuals and businesses throughout this crisis. I believe out of the bad has come some good, with a deepened trust of the profession that's a result of increased engagement with your clients and within your communities. Remain vigilant, stay strong, and continue to aim high!
I wish each and every one of you health and happiness in the days, weeks, and months to come.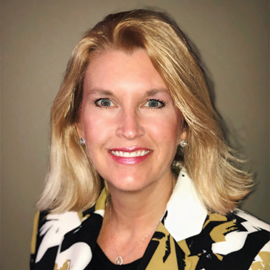 Joni Sundquist is president and executive director of the Nebraska Society of CPAs. You may contact her at (402) 476-8482 or joni@nescpa.org.