Non-profit entities, like churches, often have difficulty finding real estate financing, particularly for energy savings projects. Commercial construction loans typically have a three- to five-year maturity period, making the repayment terms difficult when it comes to energy savings projects. PACE (an acronym for Property Assessed Clean Energy) changes all of this by allowing a non-profit to finance energy efficiency projects using loans with a longer term (as much as 25 years).
Nebraska's PACE program was passed in 2016, but it is underutilized by non-profit entities. In fact, unlike national PACE loans, no Omaha PACE loans have been made for churches or other non-profits. This may be because non-profits (and their advisors) are unaware of how the PACE program can be used for their benefit.
PACE gives non-profits a tool to obtain loans with a longer term (as much as 25 years) since the loan is repaid through a voluntary assessment, levied by the local government, on the property that runs with the land. This super-priority lien allows for a lower interest rate and lets borrowers finance improvements that ordinarily wouldn't be economical.
Since the county will enforce the PACE voluntary assessment like any other delinquent tax obligation, lenders feel secure in providing loans with terms of up to 25 years. This often results in a positive cash flow for the non-profit since the savings generated by the energy project are greater than the loan repayment obligation.
Non-Profits Are Not Using PACE Loans

What kind of owners are likely candidates for a PACE loan? Figure 1 shows the type of PACE loans that have already been made in Omaha. This is heavily weighted in favor of hotels. No non-profit entity loans exist.
FIGURE 1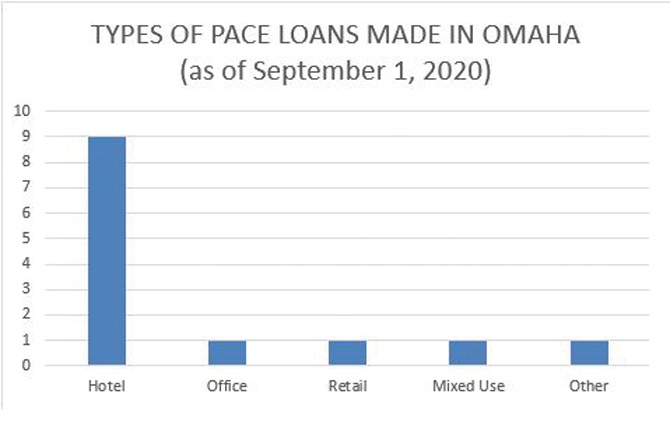 Figure 2 shows the distribution of PACE loans nationwide. As you can see, PACE loans have been completed for religious institutions nationally, even though none have been done in Nebraska.
FIGURE 2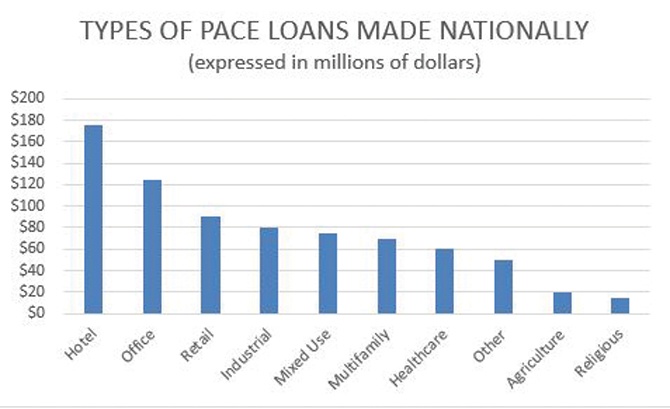 Given the potential benefits of PACE loans for non-profit entities, this tool is being underutilized.
Length of the Loan

The term of the loan may not exceed the "weighted average useful life" of the energy project, which would follow this simple example. Say two separate energy reduction projects are being installed, each with different useful lives. This includes a chiller with a 30-year useful life and LED lighting with a 20-year useful life. Assume both the chiller and the lights cost the same. The "weighted average useful life," or the term of the loan, would be the average useful life of the two separate projects. That is: (30 + 20) ÷ 2 = 25 years.
Examples of Previous PACE Loans to Churches

Churches nationally have been very successful with PACE loans. In Washington, D.C., a church did a PACE loan that provided 100% of the capital to complete an energy efficiency retrofit resulting in savings of $95,700 the first year. In Spring Valley, Calif., another church completed installation of a solar system that will result in lifetime energy savings of $903,083.
What Type of Improvements Can Be Financed?

The definition of improvements allowed under a PACE loan is very broadly written. This would include any acquisition, installation, or modification benefiting property that is designed to reduce utility demand or consumption.
A PACE loan can finance the costs of materials and labor, permit fees, inspection fees, application and administrative fees, bank fees, and other fees incurred by the owner/borrower for the installation of the improvements.
Where Are PACE Loans Available?

PACE loans are made in Nebraska pursuant to the Property Assessed Clean Energy Act. PACE ordinances have been passed in Omaha, Bellevue, and Lincoln as well as several other Nebraska cities. If an ordinance has not been passed in a community where a PACE loan would be helpful, that can be corrected.
Procedures for Obtaining a PACE Loan

The first step to obtain a PACE loan is submitting a PACE application to the city. Applicants must include estimated operations and maintenance costs, and projected increases in the cost of energy use in the applicant's calculations. To be eligible for PACE financing, the scope of any project must generate some amount of energy or water savings. For upgrades to existing buildings, the new system must be more efficient than the original building; in new construction, the new system is compared to the requirements of the existing building code. The application must describe the entire project, not just the PACE component, and describe the financing, including the name of the lender, amount financed, interest rate, and fees.
Bob Dailey is a partner with the McGrath North Law Firm in Omaha. He is a veteran real estate attorney and has been honored as Omaha Lawyer of the Year for Land Use and Zoning Law on two separate occasions. Dailey has significant experience with PACE loans and can assist you or your clients through the entire PACE loan process, including the passage of a local ordinance that will facilitate the use of a PACE loan in a city. For more information, contact him at (402) 341-3070 or rdailey@mcgrathnorth.com.