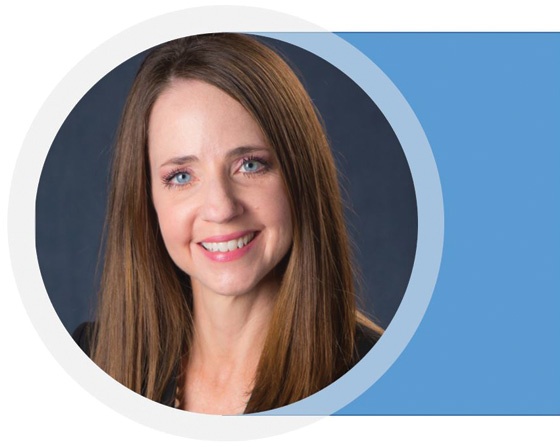 Margaret E. Knight Recognized For Excellence In Accounting Education
In recognition of her outstanding ability to educate and care for accounting students at Creighton University in Omaha, Professor Margaret E. "Maggie" Knight of Omaha was honored as the 2021 recipient of the Nebraska Society's Outstanding Accounting Educator Award during the Society's Annual Meeting, held virtually on Oct. 28.
Knight is currently an assistant professor of accounting at Creighton University's Heider College of Business and director of the Master of Accounting Program.
She earned her doctorate at Creighton University in 2018, and has an interest in behavioral accounting research, particularly burnout and alternative work arrangements in public accounting.
After graduating from Creighton University in 2001 with a Bachelor of Science in Business Administration, Knight went on to pursue her passion for accounting and health care. She spent seven years in public accounting with KPMG, where she served healthcare clients throughout the Midwest. She then joined CHI Health in 2008 as the system controller, where she oversaw accounting, financial reporting, budgeting, financial analysis, capital planning, benchmarking, and decision support and cost accounting for the health system. Knight later served as the chief financial officer for the primary and specialty care networks of physicians in CHI Health, serving more than 800 providers and 140 locations.
She has received numerous honors over the past few years including two "Best Paper Awards" from the American Accounting Association; the Heider Senate Teacher of the Year award; and the Heider College of Business Graduate Student of the Year award, among others. She also has been recognized as the Outstanding Faculty Member by Student Athletes.
Outside of the classroom, Knight has served as a board member for Mount Michael Benedictine School and treasurer of the Floyd Rogers Diabetic Foundation. In addition to being a member of the Nebraska Society of CPAs for the past 14 years, she is also a member of the American Accounting Association, American Institute of CPAs, Beta Gamma Sigma, and the Business, Faith, and the Common Good Institute.
When she is away from school, Knight loves spending time with her husband, Tadum, and their three boys, Asher (11), Landry (9), and Paxton (9).
If you Google "Maggie Knight," you'll see exceptional comments from students like:
"She somehow manages to make one of the toughest classes in the business school completely manageable . . . She focuses on what is most important, prepares us for the CPA, and creates a very positive learning environment."
"Dr. Knight is an amazing professor and she truly cares about her students."
"It was her first year at Creighton when I took her [class] . . . but she made it seem like she was an accounting professor for decades."
"I see Dr. Knight as an inspiring woman [who] has been so successful in her career, which makes me want to do the same."
"Maggie Knight is seriously one of the best teachers I have had at Creighton. I looked forward to her class every day, even though it was at 8 a.m. Great teacher, very knowledgeable."
From these comments, it's evident that Knight has been extremely successful at teaching and guiding college accounting students.
The purpose of the Outstanding Accounting Educator Award is to recognize full-time Nebraska accounting educators for excellence in accounting education. The nominee must be a CPA, be a member of the Nebraska Society, be a full-time accounting educator at a college or university, and be in good standing with the profession. Selection of the award recipient is made by a committee of Society members and approved by the Society Board of Directors.