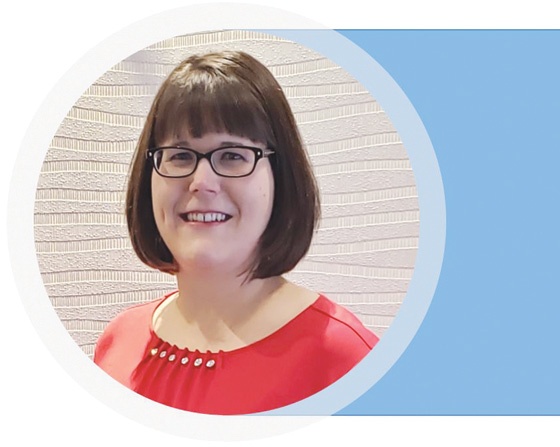 Jennifer R. Claus Commended For Outstanding Volunteer Service In The State
To honor her outstanding volunteer work and leadership of today's youth, Jennifer R. Claus of Ashland was honored with the Society's 2021 Public Service Award during the Society's Annual Meeting, held virtually on Oct. 28.
Claus presently serves as a performance team lead and accounting manager at Gallup, where she manages Gallup's controllers, tax, internal audit, and management reporting in the U.S. and global accounting staff in six countries. She also serves as a controller for various international offices, leads all learning initiatives within the department, and helps manage the accounting business division expenses for Europe, Asia, and Latin America.
Prior to joining Gallup, Claus served as an auditor in the Minneapolis and Kansas City offices of PwC. Her work with the firm included financial statement audits for Fortune 500 financial service companies and various funds, in addition to reviews of some of the largest banks in the United States. While a student, she completed an internship as an examiner with the Federal Reserve Bank of Kansas City.
Claus received a bachelor's degree in business administration with concentrations in accounting and management from Midland Lutheran College in Fremont. She also received her master's degree in professional accounting from Midland University.
Outside of work, Claus is a volunteer and professional member of Future Business Leaders of America – Phi Beta Lambda, where she serves as a state advisor for Nebraska Professional Business Leaders and a member of the National Award Program committee.
At the national level, Professional Business Leaders (PBL) has more than 11,000 participating students across more than 350 chapters in the United States. In Nebraska, PBL can be found in more than 14 Nebraska secondary institutions including two-year and four-year colleges and universities. Student members in PBL have the chance to grow their leadership abilities, serve in community service projects, and build valuable business experiences.
Claus takes great pride in her volunteer efforts for this organization and the accomplishments of those she leads. In her role as state advisor, she provides leadership to the Nebraska PBL Board of Directors; is heavily involved in the organization of the three PBL conferences along with their respective business tours and competitions; connects PBL chapters from across the state; and provides guidance and support to the state officers.
Due to Nebraska PBL's huge success on the state level, the national staff enlisted the help of Claus and another Nebraska adviser in transitioning the national conference to a virtual format in 2020. Nearly 100 Nebraska PBL students participated in National Conference last summer. Nebraska had 56 top 10 finishers—more winners than any other chapter in the nation.
For the National Awards Program, Claus is helping to overhaul PBL programming to ensure the organization's events are building upon one other and are relevant for students at each level—middle school, high school, and college. The goal is to ensure that students, especially those in college, can implement what they are learning in the classroom so they are well prepared for the business world and more specifically for a career in accounting.
On the local level, Claus is a support system for each of the chapters around the state. She frequently meets with the local advisers and local officers to build trusting relationships and assist them with any issues. Throughout the pandemic, she has helped many struggling chapters and has been working with college and university deans to help build support of the program.
Aside from PBL, Claus also serves on the Cass County Extension Board, helping to promote projects and various learning initiatives, including 4-H, within the county.
Her husband of eight years, Devin, is also a CPA. They met in PBL when they were in college and have two boys: Christian, age 6, and Noah, age 3.
The purpose of the Public Service Award is to recognize Nebraska CPAs who have performed outstanding public service in their communities. The nominee must be a CPA, be a member of the Nebraska Society of CPAs, and be in good standing with the profession. Selection of the award recipient is made by a committee of Society members and approved by the Society Board of Directors.