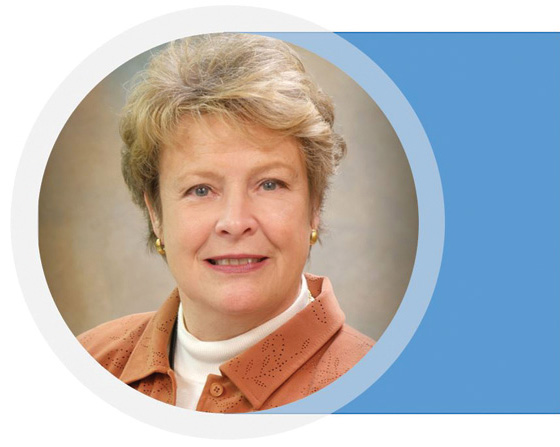 Janet M. Labenz Honored With The Society's Most Prestigious Award
Because of this individual's decades of dedicated service and outstanding leadership within the profession, Janet M. Labenz was honored as the recipient of the Society's 2021 Distinguished Service to the Profession Award during the Society's Annual Meeting, held virtually on Oct. 28. Labenz's illustrious career as a CPA began 46 years ago. Today, she is a partner in Labenz & Associates, the firm she started in 1998.
During its 93-year history, the Society has had thousands of members. This year, Labenz becomes only the 36th member to receive the Society's highest award.
Over her public accounting career, Labenz has assisted her clients in the areas of taxation, valuation, litigation support, retirement, estate, and succession planning. Her areas of specialization include individuals, closely held companies, banking, and fiduciary taxation.
Labenz is a graduate of the University of Nebraska-Lincoln and holds a Master of Science degree. In 1975, she began her accounting career with KPMG, where she served as the KPMG state tax specialist for the state of Nebraska, co-authored KPMG's Tax Penalty Exposure Review Program, and was a Financial Institution Regulatory Advisory Practice Partner and a Human Resources Partner for KPMG's Nebraska Business Unit.
Labenz has served as a course instructor for the Nebraska Society of CPAs, KPMG national training courses, the Bank Administration Institute, and the Graduate School of Banking at the University of Wisconsin-Madison. She has also been a speaker at seminars sponsored by the Nebraska Bankers Association, the American Bankers Association, and various other professional and civic organizations.
In 1997, she was inducted into the University of Nebraska's School of Accountancy Hall of Fame. She was just the 11th inductee to this elite list of esteemed accounting professionals. She continues to provide service to UNL's School of Accountancy through her role as a guest instructor
each year.
In 1999, Labenz received an Accreditation in Business Valuation from the American Institute of Certified Public Accountants (AICPA), and was certified in Financial Forensics by the AICPA in 2008.
Her reputation in the community precedes her—she is well-known and respected for her outstanding leadership skills and for her service as a mentor and counselor to her team, her clients, and in her various volunteer roles. Labenz brings thoughtful ideas to everything she does and generously gives of her time and wisdom to assist
staff, clients, and local organizations that need assistance.
In addition to her 43-year membership in the Nebraska Society of Certified Public Accountants, as well as the AICPA, Labenz's current and previous community activities include board positions with the Lincoln Community Foundation, Foundation for Lincoln Public Schools, University of Nebraska Foundation, Lincoln Estate Planning Council, Lincoln Symphony Orchestra Foundation, American Red Cross, Bryan Health, and the University of Nebraska-Lincoln School of Accountancy Advisory Board.
She is married to Rich Labenz, who is also a partner in Labenz & Associates. They have two sons. Chris is a doctoral candidate at the University of Nebraska-Lincoln, and Corey is a CPA who has joined his parents at Labenz & Associates. They enjoy all kinds of sporting events, family trips together, and especially trips to PGA tournaments—the favorite sport of their sons.
The purpose of the Distinguished Service to the Profession Award is to recognize Nebraska CPAs who have, during their career, demonstrated a commitment to the accounting profession locally, nationally, or internationally. The nominee must be a CPA, be a member of the Nebraska Society, and be in good standing with the profession. Selection of the award recipient is made by a committee of Society members and approved by the Society Board of Directors.