Steve Loftis received a bachelor's degree in business with an accounting emphasis from the University of Nebraska-Lincoln in 1978, followed by a master's degree in management from Doane University in Crete. He received his CPA certificate in 1979, working for Peat Marwick (now KPMG LLP) before moving into private industry. Loftis retired in 2012 as vice president, secretary, and CFO of Lester Electrical in Lincoln. He has been a member of the Nebraska Society of CPAs since 1985.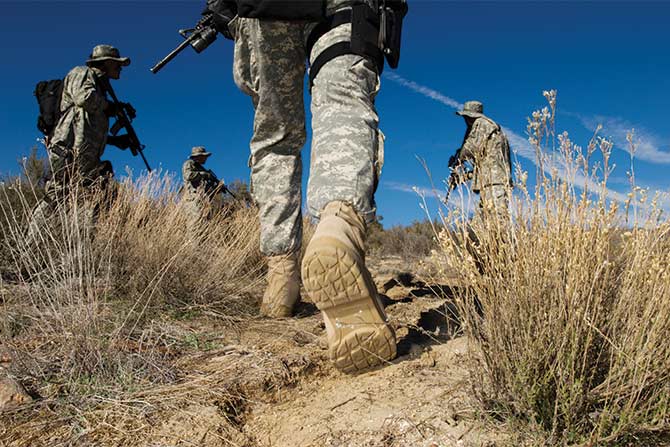 Steve Loftis set off with Uncle Max early Thursday morning.
The Lincoln man left his home on Jade Court at 5 a.m., wearing combat boots and camo and a weighted rucksack, the start of a 26.2-mile trek along south Lincoln trails in honor of Max Lockhart, the uncle he never knew.
A mile away, his neighbor and training buddy, Pat Driver, waited in the dark with a cowbell and a blast of '80s rock to send him on his way.
He was back on Jade Court at 10:46 a.m. with that bell, ringing Loftis home.
Six months of training and another Bataan Memorial Death March marathon in the books—this one virtual—in memory of Pfc. Max Lockhart, forever 23.
Loftis grew up in Tekamah, like his Uncle Max before him.
It was a patriotic town, the 69-year-old said. A proud American town.
Loftis believed in serving, too. He joined the Air Force after high school. He became an Army helicopter pilot. He spent four years in active duty and served for more than three decades afterward, mostly in the Nebraska National Guard.
"The military has more to do with who I am than any other aspect of my life," he said. "And as I developed my military understanding, Max became more of a question mark in my history. Who was he? How do I get to know him?"
The VFW in Tekamah is named for Lockhart and a pair of classmates who joined the Army and shipped out to the Philippines after basic training.
Three Nebraska soldiers out of more than 60,000 American and Filipino troops who were captured when the Japanese took the Bataan Peninsula on April 9, 1942.
The soldiers were forced to march through the jungle in the stifling heat to prison camps 65 miles away.
Many died on the days-long march, sickened by malaria, beaten by the Japanese, a torturous trek that would earn the title Bataan Death March.
Hundreds more—including Lockhart and his Tekamah classmates—died in Japanese POW camps.
Loftis heard about the memorial march at White Sands Missile Range in New Mexico in the early '90s.
But he was busy then. Being a dad, working his civilian job as a comptroller, and serving in the guard as command chief warrant officer.
Then, in 2009, he retired from the military and three years later, he retired from his civilian job and put on a rucksack and started to train.
He'd long been a marathon runner. He helped start the Nebraska Guard involvement in the Lincoln Marathon and served as team captain the first two years.
He was naturally competitive. A guy who liked to push himself and his body.
And he knew a little about Lockhart, his mother's brother.
He knew Max came from a big family. He knew his loved ones called him Sam, although he didn't know why. He knew his uncle had played high school football. That he was strong. And he guessed that times were hard in Burt County when he enlisted in the Army.
"I'm suspecting he joined because there was no other way to make a living."
Loftis spent the fall and winter of 2012 training for his first march.
He found a photograph in his aunt's family album. Max, the high school senior, smiling for the camera, his head tilted, wearing a white shirt and a polka-dot tie.
He digitized it, made a copy, pinned it to the back of his rucksack and set off for New Mexico.
He kept going back.
In 2019, shoulder surgery stopped him.
And in 2020, the pandemic canceled the march altogether.
Loftis competes in what's called the heavy military division of the march, making the 26.2-mile trek in full combat gear, carrying 35 pounds on his back.
Training starts in October, six months before the early April event.
He's out the door at 5 a.m., wearing long, khaki pants, something on his head, gloves, combat boots.
He's getting his feet ready. Strengthening the muscles, building up calluses.
He starts with an empty pack and an eight-mile walk down Old Cheney Road.
He slowly builds. He adds miles and weight to the rucksack. Clothing and water bottles. Lead weights.
He cross-trains. Swimming, weightlifting, running. If it's icy, he heads to Madonna Proactive to work out inside.
He prefers the fresh air.
"Four or five hours on the treadmill is deadly," he says.
In 2014, Driver, his neighbor with the cowbell, started training with him.
"I remember thinking, 'You're walking a marathon? What's the big deal?'" Driver said. "Biggest understatement on the planet."
Eventually, they traveled to New Mexico together, competing in their age divisions. Sometimes winning them.
He understands the physical challenge of carrying that pack, trudging in those boots through the desert.
And he's in awe of his neighbor, a generation older.
"He's a testament to what a lifetime of physical fitness can do," Driver said. "And more than anything, he has conditioned his mind to overcome what his body says it can't do."
In 2019, when Loftis was sidelined by shoulder surgery, Driver went alone, Uncle Max on the back of his pack.
Last year, organizers offered a virtual version.
It was lonely those first miles, Loftis said.
A buddy from Madonna—77-year-old Dick Waller—joined Loftis for the final 12 miles.
His wife, Linda, was there to greet Loftis at the end of the march—a personal best time of 5 hours and 46 minutes in the relative ease of the Nebraska plains.
"I had the whole day ahead of me."
Uncle Max urges him on.
"Max always helps me through the last few miles in New Mexico because they are tough. We're a team, and knowing he and I are doing it together helps."
It's hard to explain, he says.
The same way it's hard to describe the memorial march.
The temperature in the desert. The pre-dawn cold, followed by oppressive heat. Relentless sun.
The terrain, most of it sand, sometimes deep. Steep inclines and treacherous downhills. Fierce winds.
The reason that thousands travel to the desert.
"After I did that first one in March 2013, that's when Bataan really embedded itself in my brain, and I could appreciate the role Max played in that event."
The march is just a piece of the three-day gathering in New Mexico. There are movies about the war and the death march. Question-and-answer sessions. Survivors from all over the country, fewer and fewer each year.
Loftis has met some of them. 
"They could have been the last handful of people who ever knew my uncle."
It's a great history lesson, Loftis says.
"I'd like to see more people know about it. It's good for people to remember the sacrifices that people made so we could have the existence we have now."
Driver felt it, too.
On the morning of the march, there's a 30-minute pre-race sendoff.
The sun is rising, and the desert is still.
Soldiers are standing at attention. A Filipino delegation is there. American soldiers, too. Wounded warriors.
Young soldiers, veterans.
They start to call roll. Survivors. Those who perished.
He can see his friend and neighbor in the throng. Wearing his heavy pack with a black-and-white photo attached to the back, showing its wear after so many miles.
"He's standing in front of me at attention, and he's honoring his Uncle Max."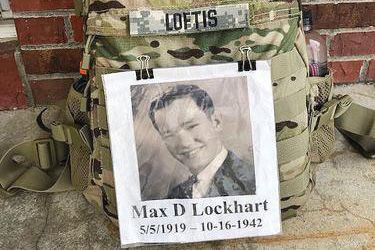 Max D. Lockhart of Tekamah who died in a Japanese POW camp in the Philippines in World War II. Steve Loftis wears his uncle's photo during the annual Bataan Memorial Death March in New Mexico.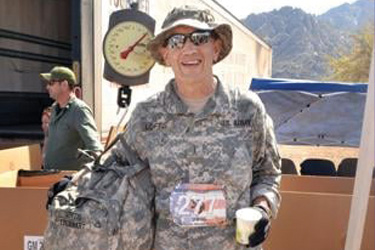 Steve Loftis of Lincoln after the 2016 Bataan Memorial Death March in White Sands, N.M. The memorial march honors the thousands who died on the march to prisoner of war camps in the Philippines in April 1942. Loftis walks with his Uncle Max Lockhart's photo taped to the back of his heavy rucksack. Lockhart died in a POW camp.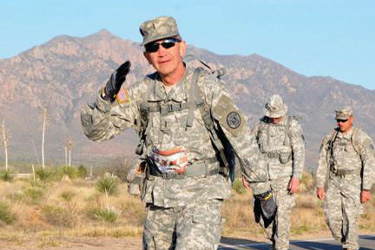 One mile into the Bataan Memorial Death March in 2016. Steve Loftis trains for six months to prepare for the 26.2 mile march wearing combat boots and a 35-pound rucksack.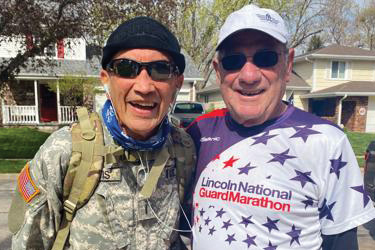 Steve Loftis (left) with friend Dick Waller who accompanied him the last 12 miles of the 26.2-mile Bataan Memorial Death March virtual edition in 2021.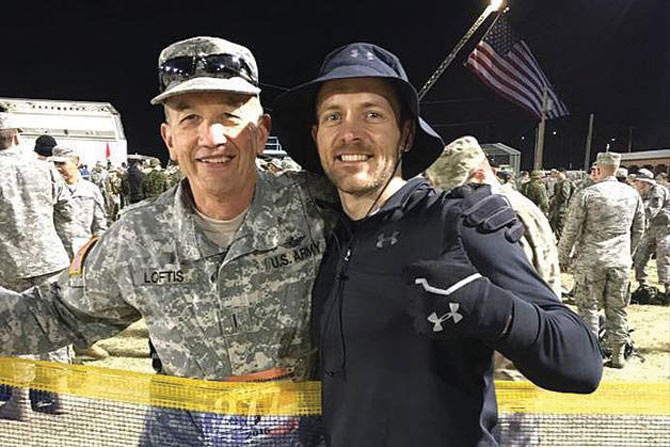 Steve Loftis (left) and Pat Driver before the Bataan Memorial Death March in 2016. Loftis convinced his much-younger neighbor to take the challenge with him.
This article was originally published by Cindy Lange-Kubick in the Lincoln Journal Star on April 20, 2021, and updated May 25, 2021. The above version has been edited only to account for changes in time. Lange-Kubick is a former columnist for the Journal Star.