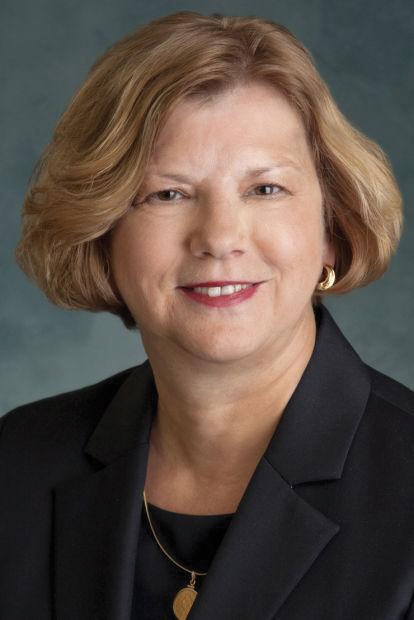 The Nebraska Society of CPAs was saddened to learn of the death of long-time Society member JoAnn Martin of Lincoln. Martin, former CEO of Ameritas, died Wednesday, Oct. 20, 2021. In July, she was diagnosed with a rare degenerative neurological disease that progressed rapidly.
Martin was born Sept. 20, 1954, the fifth of seven children. She was a lifelong Nebraskan who grew up on a farm near Plainview and attended a one-room country school through sixth grade. She then attended public school in Plainview, graduating from high school in 1972. Following high school, she attended the University of Nebraska-Lincoln, majoring in accounting. She graduated with high distinction in 1975, while passing all sections of the CPA examination, a feat seldom accomplished by the age of 20. Her leadership was evidenced early as she was a charter member and the first president of the Beta Alpha Psi honorary society at UNL.
She began her professional career at Touche Ross & Co. in 1976 and completed a master's degree in taxation from Colorado State University in 1982. In 1984, she joined Ameritas, then known as Bankers Life Nebraska, as an audit division manager. She rose through the ranks, serving in various leadership roles before being elected CEO of Ameritas in 2009. Under her leadership, Ameritas' assets grew 61% and its customer base increased 75%. She retired in January 2020.
Martin thrived on team success. She helped fulfill the lives of customers and associates during her 35 years at Ameritas while participating in numerous business and community roles, and volunteering for countless local, state, and national organizations.
A member of the Nebraska Society of CPAs for 43 years, Martin served on the Society Board of Directors for four years and as secretary for two years. She also helped lead the Society's Foundation Board of Trustees for 15 years, serving as president, vice president, and secretary during that time. In addition, Martin provided leadership to the Society's Accounting Careers Committee for many years, serving as committee chairman. She also was part of the Society's Industry Committee and Nominating Committee.
Her list of business activities, community service, and honors and awards is lengthy and impressive, to say the least. She was a member of the board of directors of the Omaha Branch of the Federal Reserve Bank of Kansas City, served as chairman of the board of the University of Nebraska Foundation, and was chairman of the Lincoln Chamber of Commerce, among other leadership roles.
In 2004, she was inducted into the School of Accountancy Hall of Fame at the University of Nebraska-Lincoln. The Nebraska Society of CPAs presented her with the Outstanding CPA in Business & Industry Award in 2000 and the Public Service Award in 2013. She was inducted into the Nebraska Business Hall of Fame in 2015. A more complete list of Martin's service and awards may be found at https://bit.ly/JoAnn-Martin. Her legacy truly is one of servant leadership.
Upon her passing, Nebraska Governor Pete Ricketts said that Martin was a pillar of the Lincoln community and a trailblazer in the insurance industry. "Her contributions to growing opportunities for Nebraskans have had a generational impact on the city," he stated.
University of Nebraska-Lincoln Chancellor Ronnie Green said, "All of UNL mourns the much-too-soon loss of one of the greatest Huskers, most distinguished alumna, and widely respected business leaders who ever lived. She deeply loved her university and we deeply loved her. She made us all better."
"JoAnn was a very intelligent, hardworking, and talented person with a deep dedication to service," said Society Past President Dan Vodvarka. "She was always ready to give of her time and talent to her chosen profession and the Society. I was so lucky to have another 'small-town kid from Northeast Nebraska' to help and guide me through all 28 years I served the Society. She led by example, a positive approach, and a smile.
"Nebraska has lost one of its great unelected and admired leaders," Vodvarka said. "This is a better state and the Society is a better association because of JoAnn's vision, energy, and leadership."
She is survived by her husband, Derrel Martin, their two daughters, three granddaughters, many relatives, and countless friends.