The IRS sent the first advance monthly payment of the Child Tax Credit to roughly 35 million U.S. families with 60 million children on July 15. The first batch of payments totaling $15 billion paid as much as $300 per child.
If your clients didn't opt out of the advance monthly payments by August 2, they're likely to get the August 13 and the September 15 payments. Should your client opt out? We'll answer this question together, and I'll provide you with critical dates, opt-out deadlines, and answers to IRS Portal FAQs.
Why should your clients opt out?

We need to get our talking points straight, because we may be hearing from many angry clients once the 2022 tax filing season begins. Clients who expect their usual big tax refund and end up with a smaller amount, or even owe money to the IRS, are going to yell at us, the people who prepared their tax return, not the people who wrote the law.
Let your clients know the IRS has been clear that this is an advance payment, not a "gift" from the government. If the monthly advance is too big, it must be paid back when their 2021 tax return is filed. Clients can opt out of the advance. If they opt out, they are not turning down the credit, but putting off when they'll receive it—in advance payment amounts that the IRS approximated (right or wrong) from prior year information, or in an amount correctly calculated on their 2021 tax return.
Three Reasons for Opting Out

Here are three cases where unenrolling from the advanced payments may be advisable:
The client's 2021 income will be above the thresholds ($75,000, $112,500, $150,000), and the client doesn't want to repay the advance.
The client's financial situation is solid. "I don't need the money. I'd rather have a bigger refund next April."
The client's circumstances or tax situation will change (or has changed) this year, and they don't want the hassle of updating the IRS portal. Think divorced clients with alternating custody of their child.
If it turns out your clients were overpaid or underpaid during the six-month prepayment period, they will have to take the advance payments into account on their tax return at the end of the year. If they're underpaid because they had a baby or their income dropped, they'll get a bigger amount when the tax return is filed.
If they were overpaid, they must pay the overpayment back. This is different from what happened with the Economic Impact Payments (EIPs). If the client was overpaid, they could keep the EIP overpayment. If they were underpaid, the client could claim an excess credit when reconciling the EIP on their tax return. The Child Tax Credit Advance is not the same—overpayments must be paid back.
How do your clients opt out of the September payment and beyond?

Your clients have until 11:00 p.m. CT on August 30 to unenroll and opt out. They can opt out anytime in 2021 to halt the rest of the advance payments even if they've already received payment.
NOTE: The IRS has stated that to unenroll, your clients must opt out three days before the first Thursday of the month to halt the next month's payment. See the chart below for more information.
Advance Child Tax Credit Payment Unenrollment Dates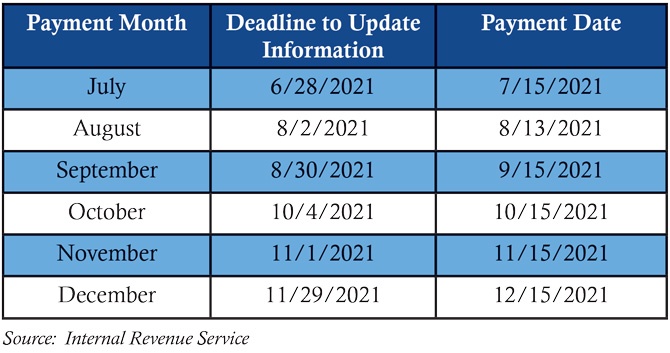 How-to Instructions: 


Go to the new "Child Tax Credit Update Portal" at 

www.irs.gov/credits-deductions/child-tax-credit-update-portal

and click the "Manage Advance Payments" button.

On the next page, your client will need to sign in using their IRS or

ID.me

account. If they have neither, the page will walk them through setting up an

ID.me

account. They will need an email address, photo ID, Social Security number, and a smartphone or tablet to verify their identity.

On the next page, they will see their eligibility and may unenroll from the monthly payments.
How much can my clients receive per child?

Reiterate to your clients that those who decline this year's advance Child Tax Credit payments (almost half the total) will still receive the credit amount they're entitled to. They are only delaying when they receive the benefit of the credit.
Communicate to your clients that if they opt out, they may not get full payment or any payment until after the IRS processes their 2021 tax return in 2022.
Example:

If your client qualified for a $3,000 child tax credit for their 10-year-old child, they would receive six $250 payments between July and December, for a total of $1,500. Then, they would claim the remaining $1,500 on a reconciliation sheet, not yet released, on their 2021 tax return filed in the 2022 tax season.
Maximum Tax Credit, by Dependent Age

The Child Tax Credit payments are as much as:
$3,000 per child for children between ages six and 17 years old.
$3,600 per child for children under six years old.
NOTE: All working families will receive the full credit if they make less than $150,000 for married filing jointly, less than $112,500 for head of household, and $75,000 for single or married filing separate.
For every child between ages six and 17 years old, families will receive $250 each month for each of the children.
For every child under six years old, families will receive $300 each month in advance.
What's my client's timeline for the advance payments?

NOTE: 80% of the taxpayers who asked for their refunds to be direct deposited will receive these payments in their bank account on the 15th of the month until the end of 2021.
People who don't use direct deposit will receive their monthly payment by mail around the same time, mid-month. See the chart below for more information.
Timeline for Child Tax Credit Payments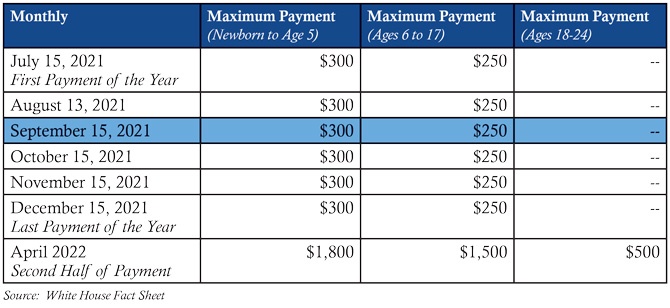 Useful FAQs

Q: How can my client receive the benefit if their child was born in 2021 or if they gained custody of a child in 2021?
A: The IRS created the Child Tax Credit Update Portal, where families can tell the IRS about children born in 2021 or changes in child custody. If your client has a baby in 2021, their newborn will count toward the CTC payment.
Q: My clients are married parents. Do both need to separately opt out?
A: If your clients are married and filing jointly, they will need to individually opt out because unenrolling applies to one person at a time. The IRS said if only one person opts out, they will receive half the joint payment.
Q: My client changed their bank account or now wants direct deposit. Can they make that change in the portal?
A: Yes! The client can provide or update bank account information for direct deposit at the portal. The portal is also the place to tell the IRS about things that affect the advance payment amount, such as a change in the number of kids, marital status, or income.
Q: Will my clients continue to receive monthly payments next year?
A: The American Rescue Plan Act only expands the child tax credit for one year, 2021. President Biden has proposed extending the expansion through 2025 as a part of the American Families Plan. Democrats hope to make the program permanent.
Tax Practitioner Tips

Your clients may mix up the Economic Income Payments with the Child Tax Credit advances. No one likes paying back excess credits. To reduce the frustration, consider this tip for the next "thrilling" tax season.
Tell them to keep their end-of-year reconciliation letter.
The IRS will not issue a Form 1099 (or any other information form) to taxpayers.
The IRS will mail out Letter 6419 in January 2022, which will state the amount of advance CTC payments distributed in 2021.
Sharon Kreider, CPA has been helping thousands of tax preparers get ready for tax season each year for the past two decades. With a keen ability to demystify complex individual and business tax legislation, Kreider instructs Western CPE tax seminars and presents regularly for the AICPA, the California Society of Enrolled Agents, and A.G. Edwards. She gained her detailed, hands-on tax knowledge through her extremely busy, high-income tax practice in Silicon Valley. For more information, contact Western CPE's customer service center at (800) 822-4194 or wcpe@westerncpe.com. ©2021 Sharon Kreider